There is no such thing as a dumb question, but there certainly are common ones! Below are some of the inquiries we receive most often which may help you quickly resolve a question you have too.
What are your hours of operation?
Visit our Locations & Hours Finder.
Where are your ATMs located?
HNB Bank (HNB) provides you with access to numerous ATM locations in Missouri – all free to HNB customers. To find one near you or your destination please use our interactive ATM Locater, or view a list of all ATMs.
What is your Bank Routing Number?
If you are trying to establish direct deposit or set-up an automatic withdrawal, along with your account number, you will also need to supply our Bank Routing or ABA Number: 081500480. This nine-digit number is also located on the bottom of each of your checks. It is the first series of numbers prior to your account and check numbers.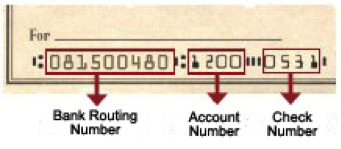 Financial Connection Questions
What is the HNB iTalk phone number?
866-975-4HNB (4462)
What do I do if I have forgotten my HNB iTalk PIN?
First, call your local bank office and ask to speak with someone concerning your PIN. They will ask for your social security number. To verify your identity further, we will ask you some additional security questions. We will then be able to reset your access with a temporary PIN. Next time you call the HNB iTalk, the system will say, "if you've used this before, press 1, if you haven't press 0." Since you've called in and talked with us, press 1. The message will then ask you for your account number followed by the pound sign. Next, it will ask for a PIN number. Enter the temporary PIN followed by the # key. As soon as you have done this, the system will say that you must enter a new PIN number. This will be your opportunity to select a new four-digit PIN, which you will use on future calls.
Internet Banking System Questions
How do I sign up for Online Banking? Is it free?
Online account access is free to all account holders. You simply need to have secure access to an Internet-connected computer or mobile device in order to login and access account information and other services online. To enroll in Online Banking Account access, simply complete an Internet Banking Enrollment form. If the system is able to verify your information then you will be automatically enrolled, otherwise a bank employee will give you a call and finish the enrollment with you.
What if I have forgotten my Online Banking System Password?
There is a forgotten password feature during the log in process that will assign you a temporary password. If you are still having trouble logging in call your local bank office and ask to speak to someone concerning your password. We will ask for your Login ID as well as several other security questions to verify your identity. They will then set you up with a temporary password. Using that temporary password the next time you log in should remove any hold on your account. You will also be able to change the password to something you choose for security purposes.
How can I sign up for Online Bill Pay? What does it cost?
Online Bill Pay is free with many of our personal and business checking accounts.
If you already have Online Banking access, you will need to complete an Internet Banking Enrollment Additional Account form in order to Online Bill Pay access to your existing profile. Once this request has been made, your Online Bill Pay will be accessible.
If you are enrolling in Online Banking for the first time, simply complete the Online Bill Pay portion of the form.
Products & Services Questions
What do I do if I have forgotten my PIN for my ATM card?
Please visit the lobby of one of our banking centers. Bring your ATM or MasterMoney Debit Card, along with a valid photo ID to verify your identity. We will provide you with a security code that will allow you to contact Shazam, toll-free and confidentially, to request a new custom PIN.
What do I do if I have lost my ATM/MasterMoney card?
Contact your local branch office or toll free at 877-382-8680 or email at hnbinfo@hnbbanks.com
How do I sign up for a debit card?
You can apply for a MasterMoney Card at any of our locations, or even more convenient, here online: HNB MasterMoney Card
If eligible, you can expect to receive your card in about ten days to two weeks. If for some reason you are not eligible for a MasterMoney Card at this time, you will receive an ATM card with your account instead.
Other Account Questions
How do I request a stop payment? Is there a charge?
If you have Online Banking access you can submit a stop pay through that system. If you do not have access you can visit your local branch office or call, however you will have to visit the bank within 14 to sign and fully execute the request. If we are able to place a stop payment on the transaction, there is a fee for each item you request to be stopped.
As long as the item in question has not cleared or been posted to your account, you may request that payment be refused. (In the case of a debit card purchase that has already been authorized and/or posted, you cannot stop payment from occurring, but you can dispute the charge after the fact. Please contact us to initiate this process.)
To stop an automatic withdrawal, especially one that is recurring on a regular interval such as a monthly insurance payment, etc., please contact us at least two business days from your expected payment withdrawal date.
We will need information such as what number the check was, what date it was written, who it was made out to, the reason for wanting a stop payment (i.e., lost, etc.), and whether or not you will issue another check in its place. Once the stop payment is placed on our system, and you've signed the form, the stop payment will stay on your account for six months.
What happens if a check bounces? What is the fee?
Relax! It happens to the best of us. As long as it is an honest, infrequent mistake, you will likely only be subject to a non-sufficient funds fee for each item that fails to clear. If your balance remains in an overdrawn or negative state for more than one day, you may be subject to additional daily NSF balance fees.
There are several options, however, which you can put in place to try to avoid this from occurring. To find out more about these options, please call or visit with us today.